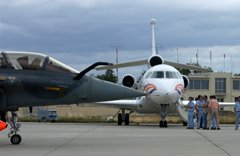 Dassault Aviation's commitment to environmental protection led it to sign the United Nations Global Compact in 2003.
Since July 24, 2008 Dassault Aviation has been a member of the French Council for Civil Aeronautics Research (CORAC) created following the Grenelle Environment Forum. This Council defines and implements technology research and innovation actions both to achieve the European goals set for 2020 and to strengthen industry competitiveness.
Dassault Aviation is also a founding member of the IAEG (International Aerospace Environmental Group) created in 2011 to encourage and facilitate consideration for the environment by the global aeronautical supply chain.
An ISO14001-based policy
Since obtaining ISO 14001 certification in 2007, the Company has placed greater emphasis on the environmental impacts of our operations at every stage in the product lifecycle, from aircraft design to dismantling.
In line with the principles of the ISO 14001 environmental standard, our policy has three key focuses:
Ongoing improvement of our plants' and products' environmental performances,
Compliance with European, national and local environmental regulations,
Preventing risks of pollution and environmental accidents.
Dassault Aviation's priorities in the three focus areas
Pursue our eco-design efforts, especially through our participation in the European Clean Sky program and the introduction of an eco-design plan for 2020;
Gradually roll out Life Cycle Analysis (LCA) tools, from design through to aircraft end of life;
Develop concepts and technologies to prepare the next-generation commercial aircraft, more respectful of the environment;
Bolster efforts to develop materials and processes with reduced environmental impact;
Maintain efforts to limit the environmental impact of production;
Pursue work to replace the most environmentally-harmful chemicals;
Consolidate our environmental initiatives in support services, especially aircraft dismantling;
Encourage our industrial subcontractors to take action for the environment;
Pursue measures to mitigate and manage environmental risks at our plants;
Comply with environmental regulations.